By: Ofir Beigel | Last updated: 2/16/23
Bitcoin loans allow customers to borrow money by placing their Bitcoin as collateral or invest their Bitcoin for interest. This post covers the leading Bitcoin loan sites around.
Bitcoin Loan Sites Summary
Bitcoin loans are loans given to individuals or businesses in exchange for Bitcoin (or other cryptocurrencies) as collateral. Loans vary from one another in their length, the annual interest, their repayment schedule, and their Loan to Value ratio.
That's Bitcoin loans in a nutshell. For a more detailed explanation about Bitcoin loans and an explanation about different loan sites – keep on reading, here's what I'll cover:
What is Bitcoin Lending?
Nexo Bitcoin Lending Platform
Unchained Capital Bitcoin Lending Platform
BitBond Bitcoin Lending Platform

YouHodler Bitcoin Lending Platform

Conclusion
---
1. What is Bitcoin Lending?
Bitcoin lending is the process of taking out a loan in fiat (USD, EUR, etc.) while putting your Bitcoin as collateral against the loan.
Many people want to keep their cryptocurrencies as a long term investment (also known as Hodling), however, they still require cash for rent, starting a business, a vacation or a variety of other reasons.
Bitcoin or cryptocurrency lending allows them to receive a loan in fiat by placing their cryptocurrency as collateral. This way, you can get instant cash, and when you get enough money to repay the loan you can get your collateral back.
Another reason to take a loan instead of selling your Bitcoins could be to avoid a tax event that will require you to pay for the profits gained by the purchase.
Due to the fact that your cryptocurrency is placed as a collateral, most crypto backed loans don't require any credit checks and can be executed instantly.
Lending Bitcoin for Interest
Most companies that supply Bitcoin loans also allow customers to lend out their Bitcoins for interest. If, for example, you don't need cash, you can still deposit your Bitcoins and receive an annual interest on your deposit.
This means your Bitcoins can generate additional income for you, instead of just lying around in your Bitcoin wallet.
Calculating a Bitcoin backed loan
When you take out a crypto backed loan, you're placing your cryptocurrency as collateral. Since cryptocurrencies tend to be extremely volatile, the loaning company needs to make sure your collateral value can always cover the loan, in case you can't repay it back in fiat.
One of the ways a company can make sure your collateral will be able to cover the loan is through calculating the LTV ratio of the loan.
LTV Ratio
A loan's LTV (loan-to-value) ratio determines the amount of crypto collateral you need to post in order to take out or maintain a loan. It is calculated by dividing the amount loaned with the amount put as collateral.
For example, a $10,000 loan with a collateral of 2 BTC each worth $10,000 has an LTV of 10,000/2*10,000 = 0.5 or 50%.
Here's another example – A $10,000 loan with a collateral of 5 BTC each worth $10,000 will have an LTV of 10,000/5*10,000 = 0.2 or 20%.
Keep in mind that when cryptocurrencies fluctuate in price the LTV changes as well. For example, if Bitcoin suddenly drops to $5,000, the LTV of our latter example would be 10,000/5*5000 = 0.4 or 40%.
A lower LTV means that your collateral can easily cover the loan if needed, while a high LTV puts the lending company at risk that you may not be able to repay your loan.
Margin Calls
If your LTV becomes too high, a margin call may occur by the lending company. A margin call means that you, the borrower, would need to take steps to lower back your LTV. This can be done by either depositing more cryptocurrencies as collateral, or by paying back some of the loan in fiat.
In case you can't do either of the above, the lending company may sell some of your collateral in order to lower the LTV into the safe zone.
Origination Fee
Many companies take an origination fee for setting up the loan. For example, a company that charges a 2% origination fee for a $10,000 loan will take $200 as payment for the service.
Loan APR
APR stands for annual percentage rate. The APR is the overall annual interest you would require to pay for your loan, all fees included (interest + origination fee). The APR is calculated by dividing how much you pay at the end of 12 months with the original loan amount.
For example, if you took a loan for $10,000 with an origination fee of 1% and an interest rate of 5%, the APR would be 6% (5+1) and at the end of 12 months, you'll need to pay $10,600.
Important:
Some companies calculate interest rate on a compounding basis (e.g. Bitbond), making the APR a bit harder to calculate.
Most companies will supply you with a loan calculator or some kind of estimate of your APR. Before taking out a loan, make sure you understand exactly how much you'll need to repay.
---
2. Nexo Bitcoin Lending Platform
Nexo allows its customers to receive crypto backed loans in exchange for a collateral in any of over 20 cryptocurrencies they support. Nexo can supply loans in 40 different fiat currencies, in 200 jurisdictions across the world.
Nexo Loans have an LTV value of 50% for Bitcoin and Ethereum backed loans, 40% for XRP backed loans, and 30% for Nexo token backed loans.
The APR for Nexo loans is 11.9% for 12 months with no origination fee. This can be lowered to 5.9% for 12 months if you repay or back your loan with Nexo tokens.
No interest payments are due during the term of the loan, so you don't need to make any repayments whilst the loan is outstanding.
Nexo tokens were issued in Nexo's ICO back in 2017 and can be purchased on several exchanges. Unlike many ICOs, Nexo is SEC compliant under regulation D (making it more of an STO).
Aside from discounts on loans, Nexo pays 30% of the company's profits to Nexo token holders. There are two types of dividends, regular and loyalty.
Nexo's team is the same team behind Credissimo, a public European company supplying instant online consumer loans, e-commerce financing and bill payment services. Credissimo is audited by Deloitte.
Credissimo has over 100 employees and recently won a Forbes Business Award for Financial Sector Innovations.
Nexo seems to be maintaining an Excellent TrustPilot score from its users, which is quite unusual in the cryptocurrency ecosystem. You can read more about Nexo in its original whitepaper.
---
3. Unchained Capital Bitcoin Lending Platform
Unchained Capital was founded in2017 By Joe Kelly and Dhruv Bansal in Austin Texas. The company raised $3m in a seed round from Ecliptic Capital and Starting Line.
Unchained Capital offers two main services – a vault to store your Bitcoin holdings offline in a multisig address, and crypto backed loans.
When requesting a crypto backed loan from Unchained Capital, your collateral will be held in multisig address that is controlled by you, Unchained Capital and a 3rd party key agent. Any 2 out of 3 signatures can release the funds in needed.
This multisig model is much better than the usual model where you grant total control over your funds to the lending company, for several reasons:
You can always see the status of the collateral and make sure it's not used for additional purposes.
In case Unchained Capital goes out of business you can still withdraw the funds using the key agent.
The additional 3rd key acts as a backup in case you lose your own private key.
Unchained Capital is available internationally and in the US states except for:
Alabama
Nevada
New York
North Dakota
South Dakota
Tennessee
Vermont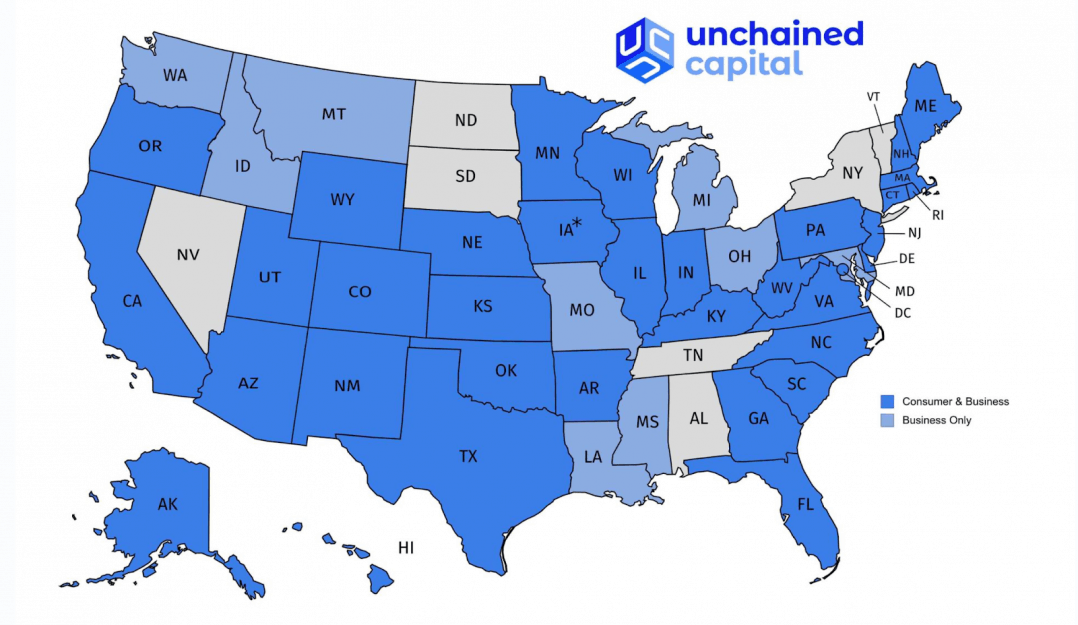 Interest rates for crypto backed loans start from 8.5% for 3 months up to 13.5% for 36-60 months. Origination fee is anywhere between 0.5%-1%. The LTV for the loans in 50%.
Unchained Capital accepts only Bitcoin and Ethereum as collateral. The Minimum loan is $10K for US based customers. International loans are available for commercial use only and have a minimum of $100K.
Unlike BlockFi and Nexo, Unchained Capital doesn't offer any ways to generate revenues with your crypto, which makes it a bit less popular than the above two companies.
I personally believe this is because Unchained Capital is focusing on loans and the security of user collateral much more than the competition. You probably won't see any fractional reserve "tricks" happening with this platform, which in my opinion, makes it much more secure.
---
4. BitBond Lending Platform
Bitbond is a cryptocurrency lending company that has been around since 2013.
The company was founded by Jürgen Walter, Radoslav Albrecht, and Robert Nasiadek and is located in Berlin, Germany.  Bitbond has over 20 employees and has secured over $13m in funding from various investors.
Bitbond is very different than the companies described above as its loans aren't crypto backed. Instead, it supplies loans for commercial uses only where the borrowers go through a credit worthiness test to be eligible for a loan.
Loans have an origination fee of 2% – 3% and need to be paid back on a monthly basis with a 1% interest rate. This type of repayment is more complex than the usual one time payment + APR calculation, so make sure to get a complete loan repayment schedule before applying.
If you're not looking for a loan, you can also support specific loans in hopes of getting a high APY on your investment. Investing in loans can generate anywhere from 10% to 35% APY, with the expected APY being around 13%.
It's important to know that since these loans aren't backed by any collateral, the risk of not getting paid is substantially higher (as you can see from my own personal experience).
Bitbond also conducted an STO for its own BB1 tokens and raised $2.3m from investors worldwide (except for the US). The majority of the STO funds will be used to fund investments on the Bitbond platform and to leverage available capital.
Token holders receive 1% interest on their invested amount every quarter (4% a year). Additionally, 60% of Bitbond profits will be paid to token holders as a variable coupon annually.
Personally, I've had some very bad experiences with sites that have a similar lending model to Bitbond, but I haven't had any experience with Bitbond itself. Additionally, when you try to sign up to Bitbond as a lender or a borrower, you get a message saying registrations are closed.
---
5. YouHodler Lending Platform
YouHodler is a European-based lending platform based in Cyprus and Switzerland. It allows users to borrow USD, EUR, GBP, CHF or BTC, using any of 20+ supported cryptocurrencies as collateral.
The platform offers one of the highest loan-to-value (LTV) ratios of any cryptocurrency lending platform, with a maximum LTV of 90%. It also allows one of the smallest minimum loan sizes, with loans of just $100 available.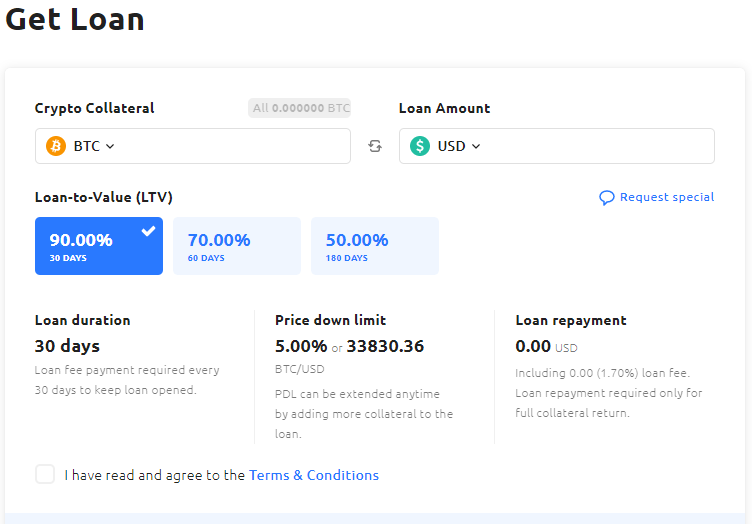 Borrowers can select a loan term of either 30, 60, or 180 days, with loan fees varying between 1.70% and 7.50%.
YouHodler also provides cryptocurrency lenders with 12% APR returns on stablecoin deposits, which is substantially higher than most other platforms. Other coins and tokens can earn anywhere from 4.5% to 8.0% APR.
It's worth noting that any single user can only deposit a maximum limit of $100,000 worth of cryptocurrencies into the YouHodler platform.
Aside from the usual lending and saving features, YouHodler also offers a duo of trading-like services called MultiHODL and Turbocharge. In a nutshell, these services allow users to speculate on the price of an asset on margin, using loans as leverage.
YouHodler doesn't have a huge online presence, however they rate very highly on Trust pilot.
---
6. Conclusion
Bitcoin lending is a new form of "modern banking" allowing businesses and individuals to get instant loans by putting their crypto up as collateral.
Since not all lending sites are alike, I highly advise to take a deep look into the following aspects before choosing a lending site:
Are loans collateral backed? This is crucial if you're an investor.
Loan terms (APV, LTV, payment schedule)
Collateral holding (multisig vs. custodial vs. in the company's wallet)
Does the company use user funds for additional investments?
Have you had any experience with Bitcoin or other cryptocurrency loans? I'd love to hear about it in the comment section below.